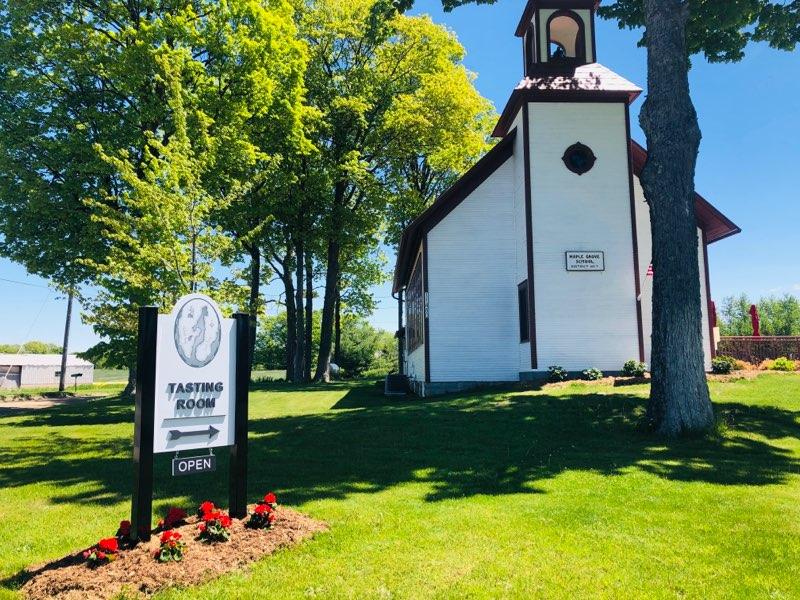 RESERVATIONS ARE NOT REQUIRED FOR PRIVATE PARTIES. GUESTS ARE SERVED ON A FIRST COME, FIRST SERVED BASIS.
We ask our guests to adhere to the following guidelines when they visit out tasting room in response to COVID-19:
All guests are required to wear a mask or facial covering until they are seated at a table. Our staff will be wearing face masks at all times. 

We are offering only wine by the glass, flights, and bottle sales at this time. We will not be offering tastings or food service.

Seating is outside only and weather dependent, please plan accordingly. Outside food or beverages are not permitted. There is NO indoor seating available.

Due to licensing restrictions, pets are not permitted on the patio or inside the building. Pets on a leash are welcome in the vineyard seating area. Please clean up after your pets should they make a mess.

Our patio has been arranged to allow for the permitted occupancy allowed by law and spaced appropriately. We ask that you do not rearrange the tables or chairs. Guests are not permitted to drink in undesignated areas, their personal vehicles, or the parking lot.

We will not be taking reservations at this time. Guests will be served on a first come, first served basis. Guests will check in with a hostess upon arrival and be directed accordingly. If there is a wait for a table, we will take your phone number and ask that you wait in your vehicle until we call you. Please call 231-933-9787 to inquire about wait times.

No groups larger than 10 will be permitted at this time.

Before entering the building, guests are required to wash their hands at our hand sanitizing station.

Guests will be directed to follow the new one way traffic pattern of the tasting room. All guests will enter through one door and exit through another. Peninsula Cellars staff will help remind guests to adhere to this traffic pattern.

A designated staff member will be cleaning tables, restrooms, and high touch surfaces. Please be patient with them as they attend to our strict sanitation process.

All guests are asked to adhere to a social distance of at least 6 feet from our staff and other guests. 

We will only be accepting credit cards payments. Cash payments will not be accepted.

We reserve the right to ask any guest to leave immediately if our safety guidelines are not followed. 

Peninsula Cellars promotes responsible drinking. Guests will be limited to 2 glasses per guest.
We appreciate your patience and understanding as we continue to focus on the safety of our staff and guests to remain open. We look forward to serving you soon.
We will be open for wine by the glass service and flights only. We will not be doing food service or tastings at this time. Outdoor seating only.
OPEN DAILY 12PM-6PM
CURBSIDE PICK UP AVAILABLE DURING BUSINESS HOURS. 
PLEASE CLICK HERE TO PLACE AN ONLINE ORDER FOR SHIPPING.
Closed:
Thanksgiving Day, Christmas Day, New Years Day, and Easter Sunday
GROUP POLICY:
FOR SAFETY REASONS, WE ARE NOT ACCEPTING GROUPS LARGER THAN 10 PEOPLE AT THIS TIME. 
BUS AND SHUTTLE COMPANIES, PLEASE CALL 231-933-9787 TO MAKE AN APPOINTMENT FOR GROUPS, REGARDLESS OF SIZE.
Wine Flights and Wine by the Glass Only

Wine Flights $12
Wine By The Glass $8-$10
Tasting Room Hours:

OPEN DAILY:
Daily 12PM-6 PM
Closed:
Thanksgiving Day, Christmas Day, New Years Day, and Easter Sunday
FOR SAFETY REASONS,
WE ARE NO LONGER ACCEPTING ANY
GROUPS LARGER THAN 10 PEOPLE.